FROM SILK TO SILICON:
The Story of Globalization Through Ten Extraordinary Lives
By Jeffrey E. Garten
On sale March 2016 · Hardcover, from HarperCollins
---
FROM SILK TO SILICON tells the story of globalization—what I consider to be the most powerful force in history—as it hasn't been told before. Rather than focusing on impersonal events, trends, industries, and policy choices, which is the approach of most other books, I describe the phenomenon by telling the stories of ten people who did something so transformational that the impact of their achievements affected not only the times they lived in but the world we inhabit today.
In writing this book, I tried to follow in the path of Robert Heilbroner's perennial classic The Worldly Philosophers, which explains economics through the lives of a few legendary economists. In contrast, however, I selected people who weren't just thinkers but doers, "first movers" who rolled up their sleeves and actually executed their ideas on a global scale. As I show, they shared certain common character traits and they lived in historical circumstances that had some similar features. Each defied terrible odds, but their extraordinary achievements had ramifications through generations and even centuries.
A number of themes emerge from this book which, in the end, uses history and biography to provoke thinking about the present and the future. How much difference can individuals make in the face of powerful forces? What are the characteristics of leaders who literally change the world? What kinds of circumstances allow people to do that? What are the prospects in our time for more men and women of the kind I have written about? My stories naturally lead into discussions about the historical background to contemporary issues ranging from how we should think about the evolution of China, to the future of the euro, to where the high-tech revolution is taking us. Most of all, this book provides the context for debating the prospects for globalization itself in an era when the challenges of a slow growth, high volatility world economy loom large, along with the mindboggling complexities of climate change, cyberwarfare, heartbreaking humanitarian problems, challenges to western values from Russia, China and radical Islam, and a host of other confounding issues.
Based on what my protagonists did, and the personal and historical circumstances they confronted and overcame, FROM SILK TO SILICON concludes with an optimistic perspective on the future—an antidote, I hope, to the cynicism that today surrounds most people's views of what our leaders can achieve.
Here are the ten people whose stories I tell.
---

Genghis Khan
(1162-1227)
No one has contributed more to globalization than those commanding figures who built extensive empires encompassing many millions of people and large swaths of geography. From Sargon, the Mesopotamian king who conquered the Sumerians in the twenty-fourth century B.C.; to Alexander the Great in the fourth century B.C.; to the Ottomans who ruled from the thirteenth to the nineteenth centuries; to Great Britain on whose empire the sun never set from the mid-nineteenth to the mid-twentieth century; and to Pax Americana from 1947 until just a few decades ago, empires have been the ultimate connectors and globalizers. In some cases they broke down walls between peoples of different backgrounds by opening transportation and communication channels, and in other instances they vastly accelerated linkages that were already growing across borders. Once established, however, empires became continuous mixing pots of cultures, religions, and commercial and political systems.
In the twelfth and thirteenth centuries, an empire arose from the desolate, nomadic plains of Mongolia in what today is northern China. At its height it stretched from Korea to Iran to Russia in the north; it also extended from China to the Middle East and to Poland in the south. Altogether it consisted of twelve million square miles, four times the size of any empire before it and larger in landmass than any that followed. While the empire was built over three generations, the person who started it all—the man who built it out of fractured tribes on the Mongolian steppe—was Genghis Khan.
His early life was lived as a desperate, dirt poor nomad hunted by warriors from organized, militarized tribes. At one point he was taken prisoner and tortured for over a year. How he rose from that lowly state to unify Mongolia and then go on to capture all of China and most of Eurasia is a good part of my story. While he justly lives in infamy as a symbol of barbarity and destruction, another part of this saga is how he also bequeathed an empire that intermingled East and West as none before had ever done, an empire that was woven together by a system of transportation, communication, and a central administration, and one in which a relatively stable peace prevailed and commerce flourished for over one hundred years.
Today, at a time when China is again ascending to world power status, and when the region between the Pacific Ocean and Persian Gulf is once more in the throes of fundamental change, what Genghis Khan did and how he did it constitutes important context for what could happen for the remainder of this young century. A great example is the New Silk Road that is being built across the Eurasian continent.
Prince Henry
(1394-1460)
It would be impossible to describe the history of globalization without considering the explorers who had the courage to push beyond the existing boundaries of human habitation and knowledge. From the families who left Africa 60,000 years ago in search of food and security, to the seafaring Phoenicians of 3000 B.C., to the Scandinavian Vikings who reached Central Asia and North America two centuries later, to the Chinese who wandered the coast of west Africa 600 years ago—and to all who came after them—intrepid explorers have played a central role in making our world smaller and more interconnected.
Among these giants, Prince Henry of Portugal, often dubbed "Prince Henry 'The Navigator,' " stands out as one of the most significant fathers of the Age of Exploration. It was a time when European captains, sailors and ships set out to discover far-flung territories to both their east and their west in search of riches, influence and prestige for themselves and their monarchs. Henry was the third son of a King who ruled over an extremely poor country; hence he could never be the monarch, he had no royal financial allowance, and he had to make his own way as an entrepreneur. Henry's great contribution was to be the personification of a highly organized set of ventures to build ships, assemble crews, raise money, and systematically push exploratory missions down the coast of western Africa beyond the psychological barriers that had inhibited explorers for centuries. His work led to the European discovery of Asia and the Americas via the oceans, to European colonization around the world, and to momentum for globalization that lasted centuries. Like others in this book, however, Henry's achievements have a darker side, for his efforts also led to the beginning of an organized global slave trade.
A good part of my story is how Henry was driven by a mixture of strong motives. He professed devotion to Catholicism and maintained that his life's goal was to convert what he considered to be the "Moslem heathens." He extolled exploration on the grounds that he wanted to bring undiscovered riches to Portugal. In his efforts he was willing to do anything, including sacrificing his younger brother to an enemy force, and allowing him to be tortured and killed, rather than give up territory that he, Henry, had already secured.
Today we are still exploring new territory, be it outer space where we have discovered new planets, or the oceans, where we are cataloging an astounding amount of biodiversity and natural resources that lie deep below the earth's surface. In all these pursuits, we can see the pattern set by Prince Henry: the inexorable quest for new information, the systematic approach to building on the lessons of the last mission, the exhilaration that human beings experience by breaking through new geographical barriers, and the relentless push to go further even when the payoff is uncertain.
Robert Clive
(1725-1774)
Over the last five centuries, colonial systems have been run by a number of nations including Holland, Spain, France, Germany, Japan, and the United States. But it was the nineteenth century British empire that constituted the most formal and large-scale effort to connect territories on land and across oceans, linking East Asia (i.e. Hong Kong, Singapore), South Asia (i.e. India), the Middle East (i.e. Iraq, Palestine), Africa (i.e. Kenya, Sudan, Nigeria), North America (i.e. the American colonies), and Latin America including the Caribbean (i.e. Jamaica, Trinidad and Tobago, Guyana). At its apex, the Empire covered nearly one-quarter of the earth's land surface and a fifth of its population. The Empire was the largest political entity in the world and its only true superpower for at least a century. To its far-flung territorial possessions, Great Britain brought expanded trade and industry, along with British governance, rule of law, business practices, and education, including the English language.
At the heart of British colonialism was India, the "jewel in the crown." And, at the beginning of Britain's expansion abroad, no one was more instrumental in bringing India into the British network than Robert Clive (who many British refer to as "Clive of India.") A ruthless soldier of fortune, he went to India at age 17 with no money, no connections and no work experience. He was so miserable that he attempted suicide. Yet within two decades he became the CEO and the commander-in-chief of the East India Company ("The Company"), a multinational enterprise with its own army that became the official arm of British efforts to dominate global trade. Using the Company as his power base, he was responsible for annexing vast amounts of Indian territory for England. I tell the story of how he did it, using cunning, deception, and military force to defeat Indian princes. Like Genghis Khan, after military conquest, Clive then established a governing apparatus comprised of tax regimes, civil service reforms, and international communication systems, much of which was eventually replicated in other British colonies. I explain how the East India Company evolved into a conduit for Indian trade not only with Britain but also with China and Southeast Asia, and how the Company became an early precursor of the state-owned multinationals rising out of emerging market nations today. They still do not match the power of Clive's Company—not yet.
Clive embodied the unsavory balance between good and evil that characterizes many of the individuals in this book. Some called him a patriot, others a psychopath. But there is little doubt that what he did created a formative beginning not just for the British Empire, but for the Anglo-American world that followed and still dominates globalization.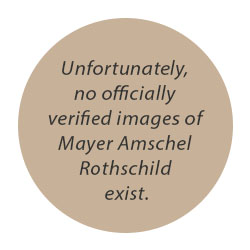 Mayer Amschel Rothschild
(1744-1812)
Nothing has done more to spur globalization than the discovery of new ways to move money across borders. International capital flows fuel trade, industry, and economic growth. When these currents of cash dry up, their evaporation can trigger global recessions, or worse. The enterprises that manage all this money—the $4 trillion in daily foreign exchange transactions, for example—are numerous and varied, comprised as they are by commercial banks, investment banks, private equity and hedge funds, asset managers, pension funds and insurance companies, sovereign wealth funds, and international organizations. Many can trace their roots to the early global banking pioneers, very prominently among them the House of Rothschild, founded by Mayer Amschel Rothschild.
The nineteenth century was a golden age for globalization. At its center were the commercial capitals of Europe. And at the center of European commerce was the House of Rothschild, which in its early days combined path-breaking financial creativity with the clandestine bravado of a smuggling operation. The Rothschilds were among the first bankers with pockets deep enough and branches strong enough to conduct international transactions without actually shipping the money—they could accept a deposit in sterling in London, for example, and make cash available to the owner in Paris in French francs, a revolutionary step forward in the convenience, speed, and safety of financial dealings. They were among the first bankers to win the international trust that makes global finance possible, and that today is largely gone.
It all began with Mayer Amschel Rothschild, who was born and raised in the oppressive Jewish ghetto of Frankfurt. How he started as a coin collector, parlayed that business into servicing wealthy banking clients, dispatched his sons to the capitals of the world to create a global institution, worked on behalf of all warring sides in the Napoleonic wars, perfected the family's expertise as smugglers in Europe torn apart by war…and how that family knit together so many parts of the world is the story told here.
For over a century, the Rothschilds held the trust of their clients and the broader markets to a degree no other bank has ever done up to this day. They helped create the international bond market—still among the largest of all financial markets. They dictated policy prescriptions to kings and prime ministers, and they had the clout to finance railroads, wars, and the birth of newly independent countries. The extent of their influence is a bit hard to fathom today, because their bank combined and presaged the role now played by state agents like the International Monetary Fund and the World Bank, private giants like Goldman Sachs and Citigroup, and money managers like BlackRock and Fidelity. Such an operation is not likely to appear again. But comparing the House of Rothschild to modern financial institutions gives us a sense of how the financial world has changed and the deficit of trust and accountability that are at the center of its problems.
Cyrus Field
(1819-1937)
Going back at least to Cyrus the Great, who built the first large scale postal system as founder of the Persian Empire in the sixth century B.C., master builders have been expanding communications systems that speed the pace of global politics, trade, and finance. Cyrus the Great was followed many centuries later by Genghis Khan, whose postal service was much more extensive and faster, replacing the Persian runners with horses and establishing extensive protection from roving bandits. Between the death of Genghis and the arrival of the modern Internet, among the next greatest master builders was another Cyrus, an American named Cyrus Field, who lacked the means or the manpower of an emperor when he set out to lay the first telegraph cable across a major ocean, but who changed the world even more than his predecessors.
Field was an entrepreneur who had made his fortune in fancy stationery and knew absolutely nothing about telegraph technology when he set out to build the first transatlantic telegraph. I explain how the idea came to him by sheer accident, how he became obsessed, and how he mobilized millions from other rich tycoons. Though Field did not know it when he began work on this project, the technology and ships capable of finishing the job did not yet exist. No one had even invented a cable material strong enough to stretch to the bottom of the ocean without snapping; indeed no one yet knew that the Atlantic was three miles deep at its bottom. Obsessed with a singular mission, Field persevered through multiple setbacks, assembling the team of engineers, scientists, sailors, and powerful political backers without whom the ocean never could have been crossed this way.
This is foremost a story of perseverance and resilience in the face of multiple failures, some leading to humiliation fanned by what was then the global media. It is also a tale of one man's ability to work with a wide swath of experts—financiers, scientists, government officials on both sides of the Atlantic—and keep them focused on a singular goal for two decades.
Sometimes known as the Victorian Internet, the gigantic underwater cable pioneered by Field would replace ships powered by sail and steam, and cut the communications gap between Europe and the United States from two weeks to a few seconds. Its successors would do the same for communications across the Pacific, making it possible to conduct global conversations in real time, for the first time. Indeed, the transatlantic telegraph would become the linear ancestor of international telephone service; of radio and television programs that could be beamed from one country to another; of the communication satellites that circulate high above us; of the new fiber optics that join nations in cyberspace. Field's story is a reminder that what is humanly impossible today may not be so tomorrow, and that one major breakthrough can unlock others of even greater magnitude.
John D. Rockefeller
(1839-1937)
John D. Rockefeller was the dominant player in the early decades of the oil industry, and built the model for all the giant oil companies that would follow. His Standard Oil would eventually be broken up by government trust busters, but even its pieces are large enough to include the most powerful private oil companies of our times, led by ExxonMobil. The saga of Rockefeller—who started out as an accounting clerk at a commodities trading firm at 16 years old—helps us to understand the contemporary debate over energy and the environment, or the context for geopolitical tensions in Europe, the Persian Gulf, and East Asia. It adds perspective to gigantic powerful "stateless" companies such as Chevron or BP. It sheds light on the modern battles between government and big business, including anti-trust battles concerning Microsoft or Google in the U.S. and abroad.
But there is a second part to the story. After retiring, Rockefeller turned his attention to philanthropy, leaving a personal stamp as deep as the one he left in the oil industry. He was the world's richest man, but he didn't want only to give away his money to good causes. Instead, he wanted to turn philanthropy into a business, one that could sustain itself without dependence on one benefactor. In addition, from the outset, he wanted his charitable institution to be global in scope. His many endeavors, including Rockefeller University and the Rockefeller Foundation, endure today and remain at the cutting edge of research in health and science around the world, exactly where Rockefeller hoped they would be. Most strikingly, his vision of professionalizing the charity industry, making it practical and accountable, and making its impact felt to the far corners of the earth is now a driving force in big institutions of philanthropy. This spirit is embodied most clearly by Bill Gates, who has taken over for Rockefeller as one of the world's richest men and leading philanthropist. Gates' foundation shares much in common with the Rockefeller vision, and has greatly improved the chances that those good men and women setting out to make a big difference in the world may have a very substantial impact.
The book paints a picture of John D. Rockefeller with all his idiosyncrasies and complexities: a man who managed a global empire with exquisite precision by watching the numbers, yet one inclined to delegate responsibility widely; a penny pincher who gave generously to charitable causes from the moment he earned any income; a devoted family man who was reviled by citizens across the country. The pieces fit neatly together in a singular character and a life with monumental consequence.
Jean Monnet
(1888-1979)
Since the founding of the Roman Empire in the first century B.C., and continuing through the eras of Charlemagne, Napoleon and even Hitler, some Europeans have dreamed of a continent that was, in effect, one single European federation, much as the United States is one country with many states. The most far-reaching experiment with this kind of supranationalism began after World War II with the establishment of the European Coal and Steel Community—an effort to pool the coal and steel resources of Germany, France, and four other countries into a new entity that itself had sovereign status and its own executive, legislature, and judiciary bodies.
That plan was the work of Jean Monnet, who started his professional life as a Cognac salesman, and who never held a formal government position. It became the core of what was to evolve into the European Common Market, the European Economic Community, the European Union, and ultimately the Eurozone, stretching from Ireland to the western border of Russia. In leading the way toward substantially dissolving national borders as barriers to trade, investment, migration, and many kinds of government regulation, Monnet engineered one of the greatest advances in international relations since the Treaty of Westphalia in 1648, when the idea of a nation state itself was created.
How did a salesman rise to such influence without ever formally being in government? What qualities did he have that allowed him to convince people with power to exercise it beyond the bounds they would have conceived possible, and to bring together countries that had been fighting one another for centuries? He wasn't charismatic, nor was he a good writer or speaker, so what was he? This chapter comes to grips with these kinds of questions.
The experiences of his transformative career are still highly relevant today when the European Union, and within it the even tighter currency union called the Eurozone, is undergoing fundamental strains and restructuring: the crisis in Greece, the horrendous pressures of migrants and refugees storming its borders, the escalating threat of Russian intervention as symbolized by the situation in Ukraine, a neighbor of the EU. At the same time, many nations from Africa to Latin America and the Caribbean are looking to the EU as a model for what they should or should not be doing to integrate their economies with those of their regional neighbors. Indeed, one of the most basic questions about globalization is raised by Monnet's creation: is the EU today a waystation toward a new level of supranational governance, designed to deal more effectively with the management of economic, social, and political interdependence? Does it reveal the outer limits of what is possible in a globalized society? Has it already gone beyond the boundaries of what is sustainable?
Margaret Thatcher
(1925-2013)
In the twentieth century the course of globalization was determined in large part by the struggle between people who wanted to use the power of the state to shape a better economic life, and those who would leave private markets free to do the same job. After World War I, the government interventionists had the upper hand and wielded it more and more intrusively until at least the 1970s, when the welfare states they had created began to stagnate. In Great Britain, with its economy and its global standing in tatters, it fell to the nation's first female prime minister, Margaret Thatcher, to reverse the powerful trend of socialism and set the world on an equally powerful course of laissez-faire economic policies.
This chapter describes how Thatcher rose from a middle class background in class-ridden England, how she overcame the handicaps of being a woman in an all-male political establishment, how she overcame several public humiliations, how she became a free-market firebrand, and how she ultimately grabbed the reins of power.
Thatcher attacked what she believed to be an immorally intrusive government on many levels, dismantling controls over capital flows and barriers to trade, deregulating banking and other industries, selling state-owned companies to private individuals, and obliterating the political leverage of unions. In so doing, she unleashed the forces of free market capitalism in Britain. Her efforts then served as a powerful example throughout the world. And as markets overflowed national boundaries, so were nations more connected to one another, thus making Thatcher a uniquely powerful force for more rapid and deeper globalization.
To be sure, in Britain the cost was high as the decimation of manufacturing and mining industries contributed to high unemployment and rising income inequality, and a general harshness began to characterize British society. These same degrading conditions were evident in other countries that followed Thatcher's prescriptions, and the resulting conflicts rage to this day. In fact, her long rule defined globalization's most pressing challenges today: how to encourage market forces and maintain a social safety net; how to encourage rapid technological innovation yet ensure that the benefits are not captured by just a few; how to govern a nation caught up in increasingly powerful global forces for change. Every educated discussion about globalization today embodies what Thatcher tried to do, as well as the criticisms of what she did.
Andy Grove
(1936-Present)
In our lifetimes, no single force has done more to shrink the world than the revolution in information technology. At the heart of the IT industry has been Silicon Valley. At the heart of the Valley has been a company called Intel. And at the heart of Intel in its formative years was Andy Grove, the third person to be hired by the company and the man who became its most influential CEO.
Grove, from a Jewish family, grew up in Hungary and lived out World War II in hiding from the Nazis. Ten years later, when the 1956 Hungarian Revolution was being brutally suppressed by the Soviets, he escaped to the US. The harrowing story of his upbringing is critical to understanding his personality, his accomplishments, and how he attained what he did. But the story goes much further, showing how this researcher became one of the world's most admired corporate managers and leaders, how he motivated scientists and technologists and stimulated their commercial instincts, how he not only tried to beat the competition but to crush it out of existence.
Grove stands out among the Valley's great stars because he excelled not as a technical whiz kid but as an industrial leader who pioneered exceptionally effective management techniques for high-technology manufacturing. He is a cross between path-breaking industrialists like Henry Ford and John D. Rockefeller, on the one hand, and revolutionary business thinkers such as Peter Drucker and Frederick Winslow Taylor, on the other. Grove built the first organization capable of mobilizing scientists and engineers to develop and manufacture computer chips that were not only exponentially faster and more powerful with each new generation, but also smaller, cheaper, and produced at a scale large enough to supply the entire world. By beginning the process of miniaturizing the chip, Grove launched the process of miniaturizing the computer itself, which soon shrunk from the massive mainframes of his early days into the desktop PC. Because of one particular device for which Intel became the world's greatest producer—the microprocessor, or the "computer on a chip"—he set the stage for what is becoming a third industrial revolution, a phenomenon spreading across the globe at warp speed, and characterized by imbedding "smart" chips in our homes, factories, offices, transportation and energy systems, spaceships, and, soon, in our bodies as well.
Deng Xiaoping
(1904-1997)
For most of the last one thousand years China's economy was the largest in the world, but in the 1800s its status began to erode under the weight of internal strife, corrupt leadership, lagging technology, and foreign invasions. Mao Zedong came to power in 1950 determined to reverse this decline, but his ideological campaign to build a perfect communist society, largely isolated from the world, left China well behind other nations, and in some parts, as backward as when he took over.
In the late 1970s the fallen empire fell to Mao's successor, the diminutive and uncharismatic Deng Xiaoping, whose no-nonsense leadership unleashed the most miraculous economic boom in recorded history. Largely thanks to Deng—and today's economic setbacks notwithstanding—China is now on track to regain its status as one of the world's largest economies, and one of its most influential political and military powers.
Deng got his start as a teenage student in France, where he met other young Chinese studying there, many destined to be the future ruling class in the Middle Kingdom. On returning to China in his early twenties, he moved up the political ladder to become one of Mao's right hand men, only to be banished, put under house arrest during the Cultural Revolution, and then returned to the Chairman's good graces on multiple occasions. That part of his roller coaster life is a tale of extraordinary resilience in the face of humiliating setbacks.
When he finally replaced Mao after the latter's death, Deng abandoned revolutionary ideology and focused on pragmatic reforms. In time he began freeing peasants to profit from the lands they farmed, village entrepreneurs to start their own businesses, traders to engage in international commerce, and scientists and economists to study in New York and London. He reengaged China with the United States, the West more broadly, and with international organizations. He quit the national habit of blaming foreigners for China's flaws and started pushing its people to take responsibility for their future. Of course, his record was not without its fundamental blemishes. As much as he focused on economic development, he was obsessed with the preservation of a monolithic Communist party as the supreme governing body of China. Presiding over the Tiananmen massacre was one result of his policy. Still, he performed one of the greatest national turnarounds in recorded history.
Deng's successors are determined to advance the course he began, and in many cases they are still using his playbook of opening up the economy to market forces while keeping a very tight political lid on the society in the form of a powerful Communist Party. However, it was a playbook built for another time, designed to industrialize a peasant nation and to pay for their political obedience with rising prosperity. Because Deng's model worked so well, China is now an industrial economy and not a farm economy, a society with a rising middle class and not a peasant society. But the middle classes are less prone to obedience, more aspirational when it comes to political as well as economic freedom, and more likely to question China's policies.
On the bright side, the current Chinese leadership well understands these pressures and has committed itself to building a country that not only creates wealth but broadly distributes it. On the dark side, its political system remains highly repressive; it is spawning major geopolitical tension in Asia over territorial claims in its coastal waters, and it is the leading polluter and contributor to global warming. As recent events have shown, China's impact on the global economy has grown to significant proportions both when it is growing fast and also when it stumbles. For better or worse, the planet's fate will in large part be determined by China, and China's future rests on whether it can find a leader as apt for this era as Deng was for his.
---
Final Thoughts
The stories and themes in FROM SILK TO SILICON complete the circle between the rise of the east in the thirteenth century and then again in the twentieth century. The book also provides insights about the type of person who is behind astounding change. What accounts for their obsession and their resilience? How much was due to who they were as opposed to the historical circumstances in which they found themselves? Did they set out to change the world, or was that change a byproduct of something else? These are some of the questions that the book addresses in its conclusion.
Beyond that, the book provides a fresh context for thinking about a wide range of contemporary events—from finance to oil, from the EU to China, from the Internet to space travel. We tend to think our challenges are unique, and of course history never repeats itself precisely. But the problems facing the ten people here were every bit as daunting as what we are dealing with in the twenty-first century, and they had far fewer assets to overcome the obstacles in their time. In understanding what they did and how they did it, we can gain substantial confidence that our problems are solvable too, and that, in fact, the best years are still ahead.